We've been delivering the region's best service and handling solutions for quite some time – so it takes a lot to get us excited.  But right now, we're very excited.
Why?
All because of a remarkable – and very affordable – new alternative to hand pallet trucks from market-leader Mitsubishi. Designated the PBPL12, it's an agile and effortless way of moving loads, especially in confined spaces.
Unlike traditional hand pallet trucks, it lifts and shifts goods using a high capacity, 48 V lithium-Ion power source – making it perfect for short and mid-distance runs.
Compact… manoeuvrable… space-saving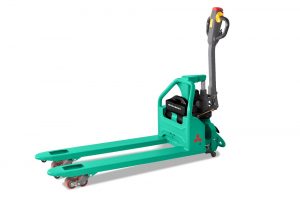 With a compact but highly durable design, low service weight and small turning radius the PBPL12 electric hand pallet truck offers exceptional manoeuvrability where space is limited – such as retail, order picking, trailers, containers and small warehouses. What's more, it delivers effortless operation for your staff –ensuring you stay on the right side of manual handling regulations.
7 great reasons for choosing the PBPL12…
Massively outperforms traditional hand pallet trucks – for fast, easy and safe operation in the tightest spaces
Lifts and drives electrically – so there's no more pushing, pulling or straining…: protecting your staff against injuries (and you against prosecution)
Easy to operate – thanks to multi-function control handle featuring butterfly-style thumb controls
Smooth, jolt-free acceleration via stepless speed control…for greater safety and fewer spills
Long shift life thanks to high capacity 48V/20Ah Li-Ion battery that charges fully in three hours – then works for six
Rapid battery change for multi-shift operations
Maintenance-free performance from patented AC wheel hub motor
Fancy a closer look at this keenly-priced multi-use solution? Use the contact form below or call us on 01709 242505. But please excuse us if we sound a bit excited.