Derbyshire-based DSF Refractories & Minerals is an independent refractory manufacturer and processor of refractory minerals. The company has a long-established factory in the Peak District, within the historic national park.
The largest shaped refractory manufacturer in the UK, the company is a major importer of raw materials for processing and supply to refractory manufacturers – producers of heat-resistant materials that constitute the linings for high-temperature furnaces and reactors – and for anti-skid road surfacing.
Forklifts are used all the way through the manufacturing process, from off-loading the raw materials to handling the finished products. Together DSF and Endeavour have worked to make changes to the fleet to provide maximum safety and performance, as well as a good working life.
DSF was established over 100 years ago, mining local mineral deposits to manufacture refractories for use in the production of town gas. An abrasive raw material means a hostile environment for forklift truck use and an on-site engineer is essential.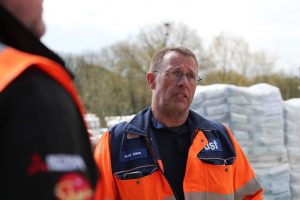 Having years of understanding of the application gave the team confidence in choosing a new path with a familiar face, Endeavour's Mark Bann. The deal includes a fleet of Mitsubishi electric and diesel forklifts, as well as an electric telehandler and a specially commissioned high capacity pallet truck to work in the kilns.
The business relies on these trucks to keep moving, as a result different capacity trucks – 1.5, 3.0 and 4.5 tonnes – are needed, with different mast profiles and attachments. It means every truck is important and has to be kept in good order, with operators becoming accustomed to 'their truck'.
"Generally, customers look to standardise their fleet," says Mark Bann, "but that's not always the right thing to do. Here each truck has a job to do, whether that's handling raw materials or in production, and it comes with its own requirements. It's no use having a standard truck, it needs to be tough and have the right capabilities. Until recently that meant only diesel trucks here, but the economics, as well as the priorities and technologies, have changed."
Growing fuel prices, environmental concerns and legislation are leading many forklift owners to make the switch to electric trucks. Mitsubishi's Edia range is celebrated for being amongst the most technologically advanced on the market, with precise performance in the smallest spaces. Advanced electronics and comfort ensure excellent durability on long shifts. "The significance of the shift to a mostly electric fleet cannot be understated," says Mark. "If it works here, it can work everywhere."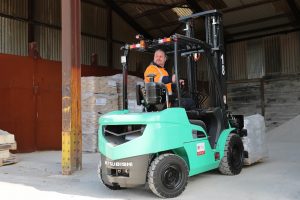 While the financial benefits of switching to electric can be substantial, these can be undone quickly through poor battery care. Fronius intelligent chargers have been fitted to provide the means to maintain the maximum battery life and the on-site engineer and Endeavour's online fleet management system ensures all queries and maintenance issues are dealt with promptly.
With the safety of all employees being paramount, new lighting systems were added to warn pedestrians of the forklifts' proximity. On-board fleet management also helps monitor operator performance and a specially developed oil bath air-filtration system to protect the engines from dust ingress: "It's an old idea applied in a new way," says Mark.
It may be a long-established business with a turnover in excess of £20m a year, but clearly that does not mean they are resistant to change. In fact, the company is in the infancy stage of a site wide process improvement and investment programme, which is seen as an integral part of its future growth ambitions whilst working towards reducing carbon emissions throughout the business.
As part of the programme, Janette Flower and Matt Handley have been promoted to the roles of manufacturing operations director and strategic operations director respectively, and both were involved in the deal.
Adds Mark Bann: "It's important to take on board new thinking and we've developed the relationship with the team, in particular DSF's Russ Ferns, to be able to discuss different ways of doing things, particularly as new technology becomes available."
"We've had all manner of equipment here," says Russ, "everything with an engine requires special consideration, and it is no exaggeration to say that some have failed to cope with the environment after just a single day. Thankfully, we have developed an excellent relationship with Mark over a number of years, and we are able to work together to find the best way of working."
Said Mark: "We have a very honest and hard working relationship with DSF. Our on-site engineer keeps the fleet in excellent shape and we approach all new equipment requirements with an eye on the tough working environment."